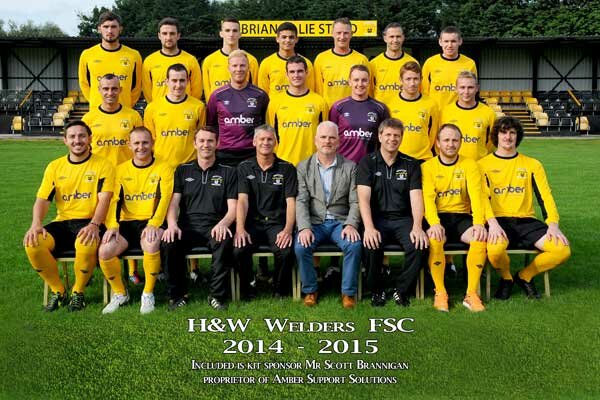 PROUDLY SPONSORED BY - AMBER SUPPORT SOLUTIONS

---
Next Match

Mon 1st Dec

Sport and Leisure (N)


K.O 7.45pm

Latest News

---
Saturday, November 22, 2014
The Welders beat Ballyclare Comrades 4-3 at Tillysburn Park today in a thrilling encounter for the neutral. Some excellent goals on show today from both teams with the Welders snatching the winner after Ballyclare had came back from 3-1 down. The Welders goalscorers were Davy Rainey and Michael McClellan hat trick.
Next up is the semi final of the Steel and Sons Cup on Monday 1st December against Sport and Leisure Swifts at Seaview, kick off 7.45pm.

---
Saturday, November 15, 2014
Welders win 2-0 with two second half goals at Tillysburn Park today against Knockbreda. The Welders goals coming from centre half Dan McMurray and super sub Mark Armstrong. Next Saturday sees the Welders at home again to Ballyclare Comrades in the league.
We have been drawn at home to Dollingstown in the Irish Cup to be played Saturday 6th December, kick off 1.30pm.

---
Saturday, November 1, 2014
Welders ease into the semi finals of the Toals Steel and Sons Cup with a 5-1 win against Donegal Celtic at Suffolk Road. Goals from Michael McClellan (2), Mark Maginnis, Chris Middleton and Mark Armstrong. The Welders have been drawn against Sport and Leisure on Monday 1st December at Seaview, kick off 7.45pm.

---
Sunday, October 26, 2014
Welders are beaten for the first time in the league this season by Larne at Tillysburn Park. The game finishing 3-1 to the visitors with Paul Dickson on the score sheet for the home side. All attention turns to next Saturday's massive Steel and Sons Cup semi final away to Donegal Celtic.

---
Saturday, October 18, 2014
Welders remain unbeaten in the league campaign this season after Davy Rainey scored an equalising goal in the second half of the East Belfast Derby game at Dundela, the final score 1-1.

---
Saturday, October 11, 2014
Welders continue their march in the Toals Steel and Sons Cup with a comfortable 4-0 home win against Albert Foundry. Welders goal scorers were McMurray, Mark Armstrong and Chris Middleton (2). The Shipyard men play Donegal Celtic in the quarter finals.

---
Tuesday, October 7, 2014
Welders bow out of the Wasp Solutions League Cup with a 4-1 defeat at the hands of Bangor tonight at the Bangor Fuels Arena. Chris Middleton the only goalscorer for the Welders.

---
Tuesday, October 7, 2014
Apologies for no updates over the weekend due to unforseen circumstances. Welders drew 2-2 with Dergview on Saturday past at Tillysburn Park. Attention turns to tonights league cup fixture away to Bangor. Updates will be available here and on the club twitter account.

---
Monday, September 22, 2014
Welders will play Ballymena United Reserves in a friendly fixture at Tillysburn Park on Saturday 27th September at 12 noon.

---
Saturday, September 20, 2014
Welders battle out a 1-0 win away to Armagh City today at Holm Park. The visitors took all three points with a Ryan Deans shot from close range after good work from Davy Rainey.
Next Saturdays Steel and Sons Cup game with Albert Foundry has been re-arranged to Saturday 11th October due to William Armstrong and Daniel McMurray being included in the Northern Ireland Regions Squad.

---
Monday, September 15, 2014
Welders cruise into the last 16 of the Toals Steel and Sons cup with an emphatic 11-0 win against amateur outfit Rathcoole at Tillysburn Park. Striker Michael McClellan enters into the Welders history books bagging a hat trick of hat tricks, nine impressive goals in total taking his tally to 13 for the season. Mark Armstrong and Ryan Deans were the other Welders scorers claiming the clubs spot in tonights draw.

---
Saturday, September 6, 2014
Welders scrape a 1-0 home win against Donegal Celtic. It was a first goal for Davy Rainey which sealed all three points against a D.C side which hit the woodwork no less than 5 times. Next up for the shipyard men is a 3rd round Steel and Sons cup tie against Rathcoole.

---
Saturday, August 30, 2014
Welders made things hard for themselves in a 6-3 win at home to Immaculata in the 2nd round of the Steel and Sons Cup. The Welders goal scorers on the day were Michael McClellan (2), Paul Dickson, Mark Maginnis, Scott Davidson and Mark Armstrong.
We have been drawn home to Bangor in the next round of the WASP Solutions league cup, to be played on Tuesday 7th October, kick off to be confirmed.

---
Monday, August 25, 2014
Welders beat premier league opposition Warrenpoint Town to progress to the next round of the WASP Solutions League Cup. Both the Welders goals were scored by Mark Armstrong.
Turning our attention to Saturday we play Immaculata at Tillysburn Park in the 2nd round of the Steel and Sons Cup, kick off 2.30pm.
We would like to wish our secretary Fred Magee a speedy recovery from illness from everyone connected to the club. Get well soon Fred!!!!
---
Saturday, August 23, 2014
Welders give away a two goal lead against 10 man Bangor to draw the game 2-2. Welders goalscorers were Gareth Beattie and Gary Spence. Next game for the Welders is a league cup tie away to Premier side Warrenpoint Town on Monday evening.

---
Wednesday, August 20, 2014
Welders keep their 100% start in the championship one season with an emphatic 3-0 home victory over Carrick Rangers.With Carrick dominating most of the play in the first 45 minutes the Welders went in 1-0 at the break courtesy of Michael McClellan. A second half penalty from William Armstrong and a strike from Ryan Deans sealed all 3 points. The full match report can be read in the match report section of the website.
---
Saturday, August 16, 2014
Welders ease into the next round of the Toals Steel and Sons Cup with a 4-0 home victory over Shankill United. Michael McClellan opened his competitive account with a strike from all of 30 yards, Chris Middleton made it 2-0 before the break. Substitute William Armstrong made it 3-0 with a close range header and Ryan Deans sealed the rout with the last touch from a goal bound Mark Armstrong header.
Thw Welders have been drawn away to Warrenpoint Town in the WASP Solutions league cup 2nd round, the fixture date has yet to be decided, it will either be Monday 25th or Tuesday 26th August with a 7.45pm kick off.

---
Saturday, August 9, 2014
The Welders get their new season underway with a hard fought 2-0 win over Championship One newcomers P.S.N.I at Newforge today. The Welders took all 3 points courtesy of a Scott davidson brace in the second half. Next week sees the Steel and Sons cup round one begin at home to Shankill United.
Before Saturdays game Main Sponsor Scott Brannigan of Amber Support Solutions presents this years new home and away strip to Harland and Wolff Welders F.C. with captain Philip Simpson and centre half Dan McMurray.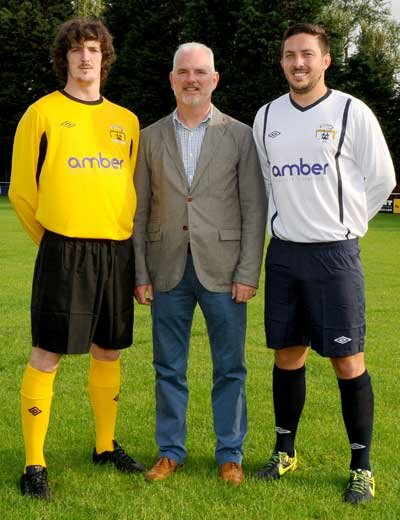 ---
Wednesday, August 6, 2014
We would like to welcome our new signings to the club, David Rainey, Michael Hunsdale, Tony Galbraith and Mark Armstrong. All of our signings are available for selection for this Saturdays league opener at P.S.N.I.
Our squad profile will be updated shortly with all our new faces and 2014/15 official squad photograph.

---
Saturday, August 2, 2014
The Welders finish off their pre season friendly schedule with a 1-0 defeat away at Crusaders today at Seaview. All in all a great runout and very positive preformance from the shipyard men. All attentions turn to next Saturdays fixture the opening game in the new Championship One season against P.S.N.I at Newforge, kick off 3pm.

---
Tuesday, July 29, 2014
Welders run out comfortable winners at Rushmore Park, Ballymacash Rangers tonight. Final score 4-0. Goals from McClellan (2), Beattie and Middleton. Final pre season friendly against Crusaders at Seaview, Saturday 2nd August, kick off 3pm.

---
Sunday, July 27, 2014
The Welders go down 5-0 to Portadown in Saturdays pre season fixture. The next game for the Welders is away to Ballymacash Rangers on Tuesday evening, kick off 7pm.

---
Friday, July 25, 2014
Last Tuesday night saw another excellent workout for the Welders in their pre season calendar as Ballymena United travelled to Tillysburn Park in what was an entertaining game. Mark Maginnis had the chance to put the home side ahead late in the first half but saw his penalty kick sky over the crossbar. Ballymena saw the game out 1-0 winners with a goal on 70 minutes from their new signing Matthew Tipton. Plenty of positives for Gary to take from the game as the Welders dominated a good percentage of the play. Next up this Saturday is an away trip to Shamrock Park, Portadown.

---
Sunday, July 20, 2014
Welders beat Crumlin United 2-1 in their second friendly game on their pre-season fixtures schedule. Michael McClelland opened the scoring before Crumlin United equalised in the second half. Mark Armstrong came off the bench to score the winner for the Welders in what was another great run out game.

---
Friday, July 18, 2014
Welders shoot five goals past Shankill United in last nights friendly fixture at Tillysburn Park. The home team went one down early in the first half as Shankill looked to upset the shipyard men. The Welders quickly got to grips with Scott davidson scoring the equaliser before a goal of the season strike from his own half way line by Mark Maginnis. Welders new boy Michael McClelland opened his scoring account with a brace before Sammy Devine closed the game. Final Result 5-1.

---
Friday, June 6, 2014
At last our pre-season programme has been announced.
Thursday July 17 Shankill Utd home ko 7.00pm
Sat July 19 Crumlin Utd away ko 2.00pm
Tues July 22 Ballymena Utd home ko 7.30pm
Sat July 26 Portadown away ko 3.00pm
Tue July 29 Ballymacash Rangers away ko 7.00pm
Sat Aug 2 Crusaders away ko 3.00pm

---